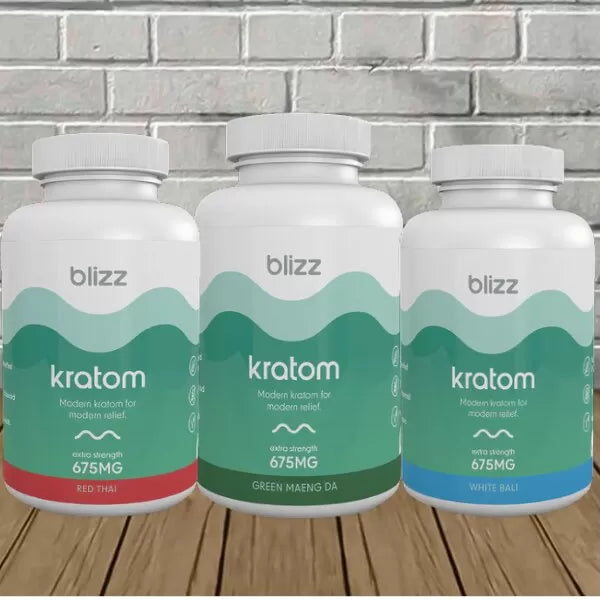 Blizz Kratom Extra Strength Premium Capsule Bottles
Blizz Kratom Extra Strength Premium Capsule Bottles
Blizz Kratom Extra Strength Premium Capsule Bottles is a familiar, well-known kratom brand going through a transformation! Known as Kijo, they have evolved further in their practices and techniques to become Blizz Kratom. Sourcing higher quality kratom powder and extracts to make their products even better! They will be introducing capsules, powder, enhanced extract capsules, and a new and improved extract shot!
What Is The Standard Kratom Dose?
The standard dosage for kratom is about 2.4g. Some consumers may need more, and others may need less depending on their needs and other variables. 2.4g looks like roughly a level teaspoon of kratom powder or about four capsules! Generally, most kratom capsules are dosed out at .4g or .5g per capsule. This makes things very convenient for people who don't prefer the toss-and-wash method or don't have time to brew tea.
Available Blizz Kratom Capsule Bottles Strains
White Bali-

White Bali Kratom is grown in the fertile jungles of the Suhaid region. Most predominantly used for its high energy and euphoric capabilities.

Green Maeng Da-

Green Maeng Da Kratom is known to be one of the most potent kratom powders available. Excellent for its long-lasting mood and energy-boosting properties and pain-killing properties.

Red Thai-

Red Thai produces energizing feelings but also contains more

7-hydroxy mitragynine

than other strains, making it highly relaxing. Best used in aid of relief from pain or stress and anxiety.
Product Features:
3 Strains
3 CT options
Premium Kratom Powder
Resealable Child Proof Bottles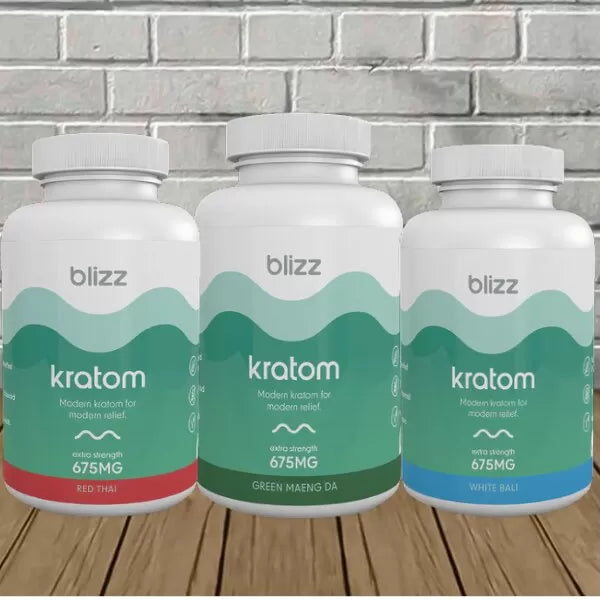 Related with Blizz Kratom Extra Strength Premium Capsule Bottles