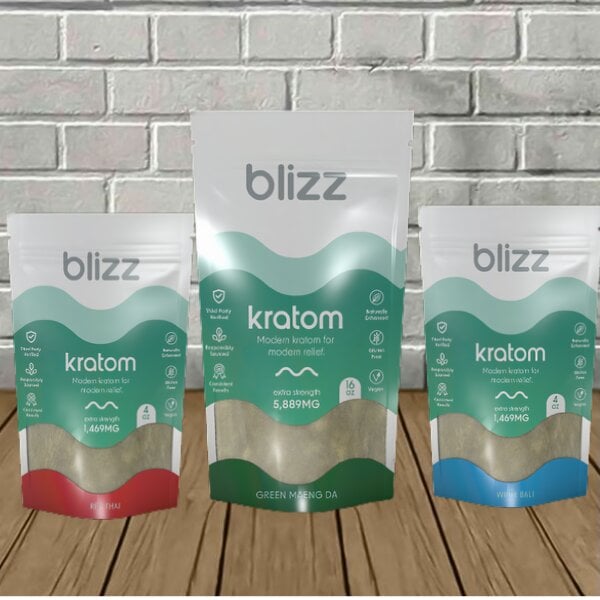 Blizz Kratom Extra Strength Premium Powder Bags
Blizz Kratom Extra Strength Premium Powder Bags
Blizz Kratom Extra Strength Premium Powder Bags offer modern kratom for modern relief! Formerly known as Kijo kratom, this company has evolved further in its practices and techniques, so they thought a rebrand was in order! All of their products are naturally enhanced to produce much more potent effects. Expect nothing short of a premium kratom experience with any of their products.
Does Kratom Help With Inflammation?
There are over 50 different alkaloids that naturally occur in the kratom plant. The two most common are mitragynine and 7 hydroxy mitragynine. There is evidence that these two alkaloids have analgesic (pain relieving), anti-inflammatory, and muscle relaxant effects. Kratom can be used to ease symptoms of diseases such as fibromyalgia.
Although all kratom offers these specific effects, depending on color and strain, there are many other effects. Some strains provide energy and mood-boosting properties, while others may be more relaxing and help ease stress and anxiety.
What Makes Blizz Kratom Kratom Powder Different?
As mentioned above, Blizz Kratom has taken a step further with its products to ensure a premium experience each time. Each product is responsibly sourced, vegan, gluten-free, and naturally enhanced. Naturally enhanced, meaning they have enriched all of their powder with more mitragynine and 7-hydroxy mitragynine content. This means the expected effects and benefits will be much more accentuated whichever strain you choose!
Available Strains:
White Bali-

White Bali Kratom is grown in the fertile jungles of the Suhaid region. Most predominantly used for its high energy and euphoric capabilities.

Green Maeng Da-

Green Maeng Da Kratom is known to be one of the most potent kratom powders available. Excellent for its long-lasting mood and energy-boosting properties and pain-killing properties.

Red Thai-

Red Thai produces energizing feelings but also contains more

7-hydroxy mitragynine

than other strains, making it highly relaxing. Best used in aid of relief from pain or stress and anxiety.
Product Features:
3 Strains

2 OZ Options

Naturally Enhanced

Responsibly Sourced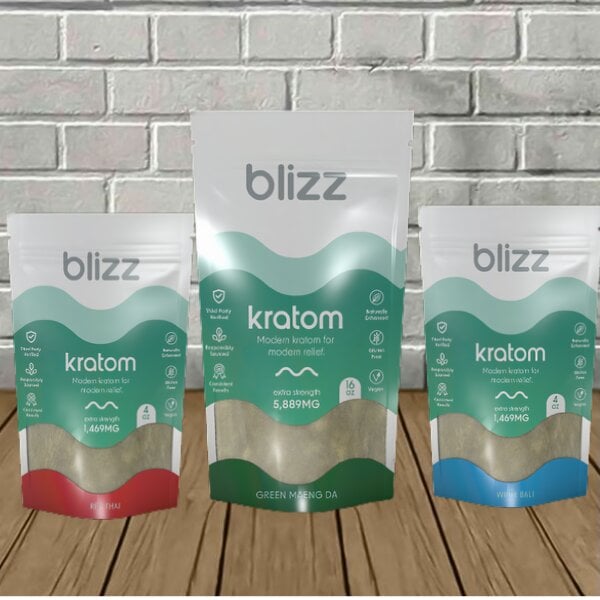 Related with Blizz Kratom Extra Strength Premium Powder Bags