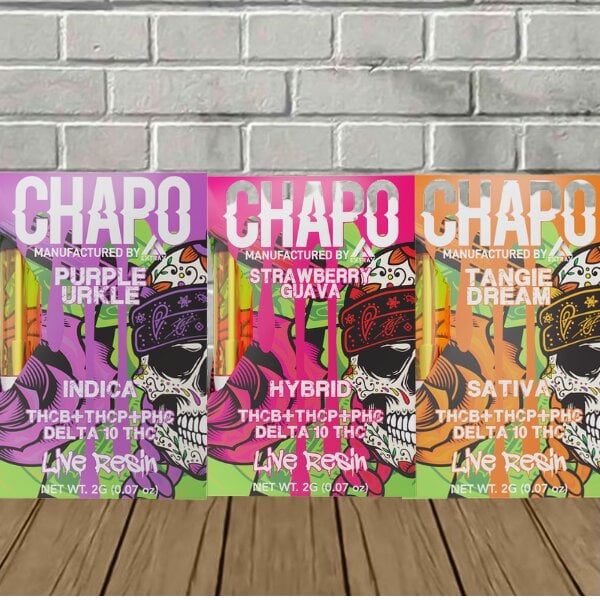 Chapo Extrax Live Resin Vape Cartridge 2g
Chapo Extrax Live Resin Vape Cartridge 2g
Chapo Extrax Live Resin Vape Cartridge 2g blends high-quality cannabinoids with delicious terpenes! Each 2g cartridge contains a blend of 4 of the most powerful cannabinoids to hit the market. THCB, THCP, PHC, Delta 10, and live resin terpenes for flavor. Experience these classic cannabis flavor profiles with an entirely new and unique high.
This blend is heavy on euphoria; no bad vibes are allowed here! Users can expect to feel a perfect balance between stimulation and relaxation. Chapo Extrax is launching this cartridge line with one Sativa, Indica, and Hybrid, so users are covered for any scenario.
What Is Delta 10 THC?
Delta 10 THC is a naturally occurring cannabinoid in the hemp plant in small concentrations. This cannabinoid is very similar to Delta 8 THC but much less potent than Delta 9 and milder than Delta 8. Delta 8 THC is more psychoactive than Delta 10, which explains its difference in potency.
Another difference between Delta 8 THC and Delta 10 THC is that Delta 10 has more stimulating effects. In contrast, Delta 8 THC is more relaxing. Delta 8's effects are long-lasting, while Delta 10's seem more short-lived.
Flavor Profiles:
Tangie Dream (Sativa)

Strawberry Guava (Hybrid)

Purple Urkle (Indica)
Product Features:
Compliant with the?

2018 Farm Bill

2 grams of distillate infused with THC-B, THC-P, PHC, and delta-10 THC

Live resin extract

Third-party lab tested

Made in the USA with industrial hemp
Lab Analysis: Coming Soon
Don't Forget To Check Out Their Other Products!
Chapo Disposable 3g
Chapo Gummies 3500mg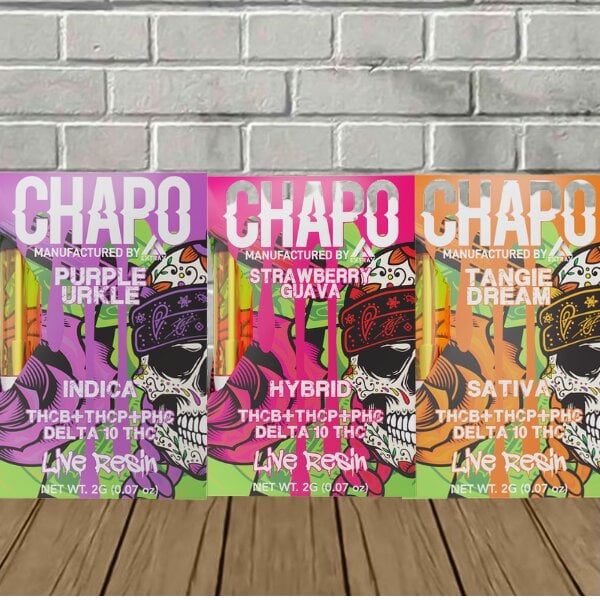 Related with Chapo Extrax Live Resin Vape Cartridge 2g